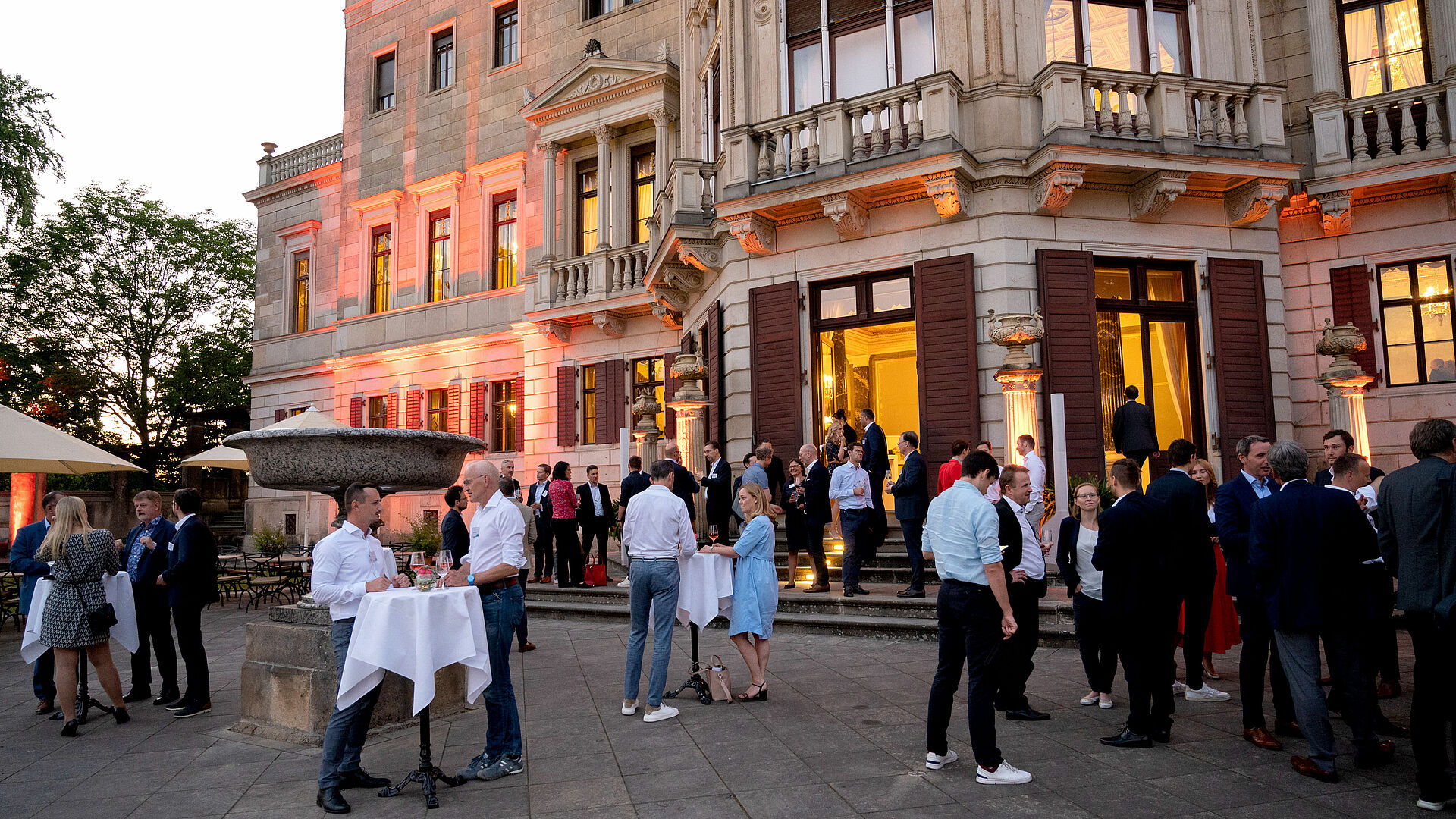 Innovation meets investment: the video format
In the video format "Innovation meets Investiton" we make start-up concepts with successful financing concepts visible and invite to a talk with founders and the capital investors. Here we show how the contact between both parties was established, how investment processes took place and how both sides learned from each other.
The videos are only available in German. Please contact us at any time for more info.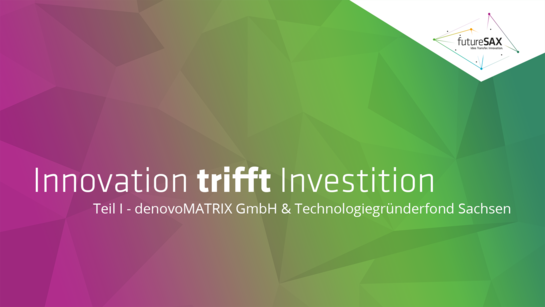 Innovation meets investment part 1: denovoMATRIX and TGFS
How can I convince an investor? How long does the process take from getting to know each other to completion? What is an investor looking at? These and many other questions are asked by founders and entrepreneurs in search of capital. Dresden founders Dejan Husman and Richard Wetzel from denovoMATRIX GmbH and Martin Liebsch from Technologiegründerfonds Sachsen have already answered these questions and now report on the course of the successful financing round. There are also a few tips for all those seeking capital.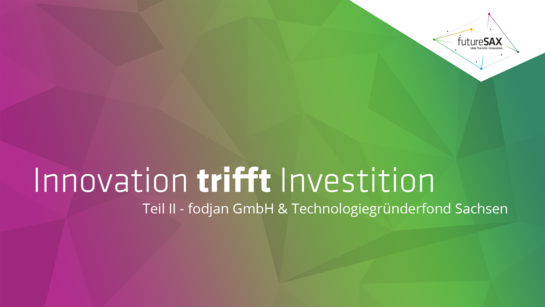 Innovation meets investment part 2: fodjan GmbH and TGFS
The Dresden-based company fodjan GmbH is networking with new global partners. futureSAX-TV used this opportunity to talk to founder and managing director Carsten Gieseler and Tobias Voigt, investment manager of Technologiegründerfonds Sachsen (TGFS), about the successfully completed investment of TGFS. The viewers will learn everything about the next milestones of fodjan and how the contact to the new strategic partners was established.
Innovation meets investment part 3: Pamyra GmbH & TGFS
The Leipzig-based company Pamyra is the first independent comparison and booking platform for freight forwarders. Today, Dr. Lasse Landt, Managing Director & CFO of Pamyra GmbH and Tobias Voigt, Investment Manager of the Technologiegründerfonds Sachsen will answer questions from futureSAX Project Manager for Kapital Alexander Kühne about the past financing round and the next milestones.
Innovation meets investment part 4 - Corant and TGFS
The Chemnitz-based company and futureSAX alumnus Corant, has developed a sensor called air-Q, which analyzes the air indoors, checks it for various quality criteria and warns the user in case of deviations, such as excessive fine dust pollution. To ensure rapid growth, the team around CEO Mario Körösi was able to secure seed financing from the Technologiegründerfonds Sachsen. Together with Sören Schuster, Managing Director of the TGFS, you will learn exclusive background information on the completed financing round and the next milestones.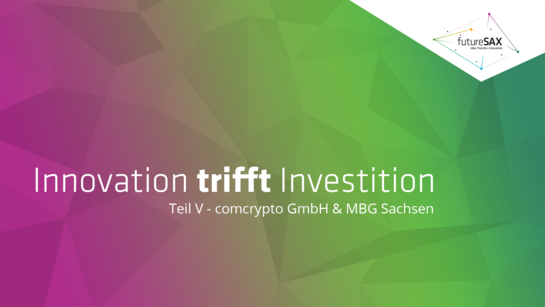 Innovation meets investment part 5: comcrypto GmbH & MBG
The comcrypto GmbH from Chemnitz develops software products for secure e-mail communication, which are characterized by the lowest possible effort for the users and are therefore particularly suitable for small and medium-sized companies. The current focus is on the roll-out of the e-mail gateway MXG, which ensures a fully DSGVO-compliant e-mail transmission for each individual message after the simplest installation. The Mittelständische Beteiligungsgesellschaft Sachsen has invested in the company within the scope of a financing round. Georg Nestmann, managing director of comcrypto, and Martin Liebsch, investment manager of MBG Sachsen, talk about their experiences in the investment process in the video.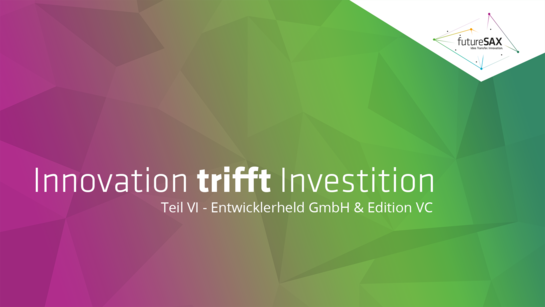 Innovation meets investment 6: Developer Hero & Edition.VC
The founding team around Entwicklerheld GmbH operates a code challenge platform on which software developers of all experience levels can solve programming tasks and thus prove their talent, which are used in companies. Companies looking for software developers can sponsor challenges and find talents. The spin-off of the Dresden University of Technology thus combines employer branding with recruiting in an innovative way. In 2018 the Early-Stage Tech Investor Edition.VC joined the company. Ilja Bauer, founder and CTO of Entwicklerheld GmbH, and Björn Bak, CEO of Edition VC, report on getting to know each other, the investment process and the next milestones at futureSAX.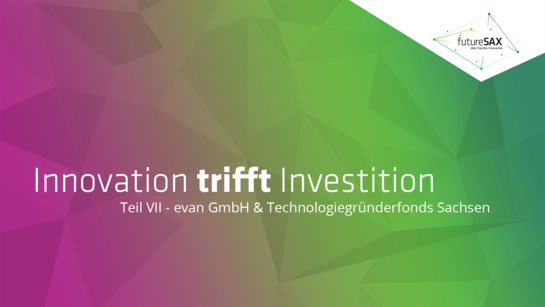 Innovation meets investment part 7: evan GmbH & TGFS
The evan GmbH develops with the evan.network a block chain for the digitalization and automation of business transactions. The network members create digital twins for machines and products and develop standards for cross-company automated transactions. At futureSAX-TV, founders and investors report on their experiences in the investment process.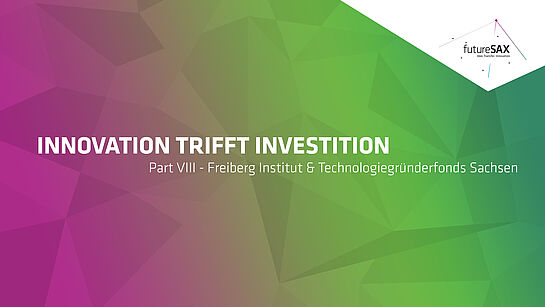 Innovation meets Investment Part 8: Freiberg Institute TGFS
With EDGAR, the Freiberg Institute has developed an energy supply system that is scalable in its business model and that illuminates and optimizes the yield, efficiency and profitability of energy generation plants and their process chains. In the Technologiegründerfonds Sachsen, the Freiberg start-up has found a good partner that provides versatile support in bringing the product to market. In "Innovation Meets Investment", Konrad Uebel, Managing Director of Freiberg Institute and Martin Liebsch, Investment Manager at TGFS, illuminate the course of the investment process.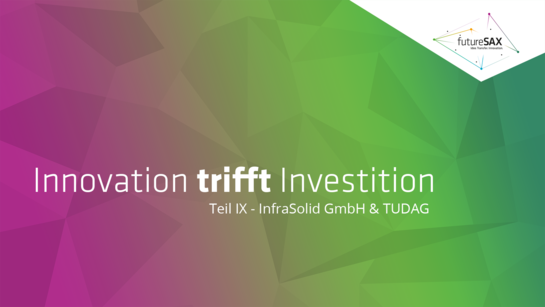 Innovation meets investment part 9: InfraSolid and TUDAG
InfraSoldid GmbH, a TU Dresden spin-off, develops, produces and distributes infrared light sources for gas analysis and infrared spectroscopy. As an investor, TUDAG was convinced by the concept and the founding team as a partner for knowledge and technology transfer. Benjamin Buchbach, Managing Director of InfraSolid, and Francisco Arroyo, Head of Investment Management at TUDAG, tell us how the investment went in issue 9 of Innovation trifft Investiton.