futureSAX Start-up III Online
Presenting your own idea convincingly: the futureSAX Start-up Forum III Online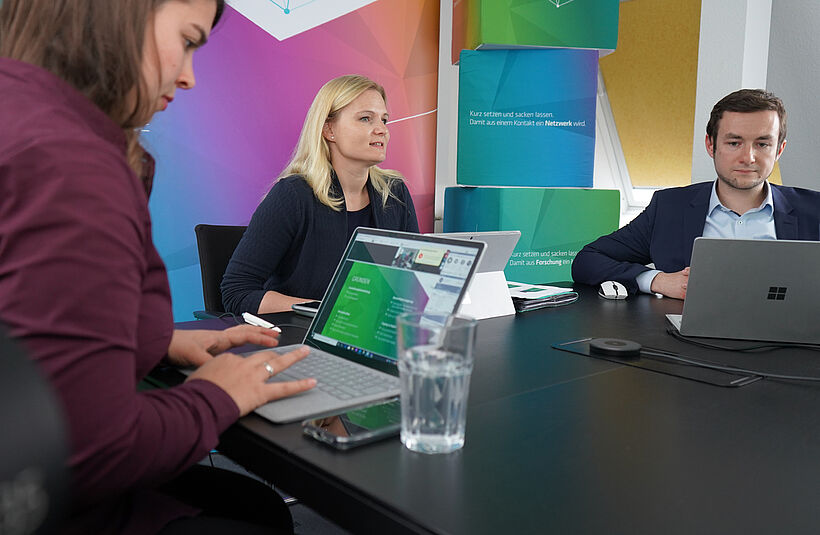 Over 40 participants accepted the invitation to the last of the three futureSAX Start-up Forums. After the development of a business model and its financing had been the subject of personal exchange at the Start-up Forums I and II, this time everything revolved around the successful communication of innovative business ideas. For the first time, the event took place entirely in virtual space. Among the participants were not only the nominees but also some teams of the 20th Saxon Start-up Award as well as many other people interested in founding a company.
Pitch training for the nominees of the Saxon Start-up Award
After the welcome by Marina Heimann, managing director of futureSAX GmbH, an impulse webinar by communication trainer André Ottlik followed. He very clearly conveyed the basics of effective communication. Afterwards, the participants were asked to give their own presentations. The nominees and 15 other selected founders worked on their presentations in two groups.
Expert feedback for founders
While the nominees concentrated in the afternoon on preparing the jury meeting for the second round of judging on June 8, a quick check of the pitch story with expert feedback was on the agenda for the second group. In the process, the founders received valuable feedback and extensive assistance from André Ottlik and the futureSAX team.
Many thanks to all participants and speakers!
Digital award at the futureSAX Innovation Summit
The winners of the Saxon Start-up Award 2020 and the Audience Award will be awarded on July 8 at the futureSAX Innovation Summit in Dresden - digitally for the first time. This year, the award will be accompanied by an investor roadshow the day before and an innovation exchange the day after. Stay curious and look forward with us to July 8, 2020 and make a note of this date now.
Your contact person at futureSAX
Alexander Seedorff
Project Manager Start-ups
To actively participate and create something new instead of watching others do it - this credo characterizes the life of Alexander Seedorff. Already during his studies of political and communication sciences at the Technical University of Dresden, he volunteered to build professional structures at the third-league basketball team Dresden Titans. Through his professional stations in educational science and the Saxon State Parliament, he focused on the future-oriented topics of higher education, science and education as well as culture and media. With heart and hand he gained personal experience as a social entrepreneur by founding and managing an association for the promotion of fan culture.